The ultimate experience
in Kos island!
---
Ever wondered what it would feel like to fly? Flyboarding is the hottest extreme sport to hit the holiday circuit. Let Flyboard show you how to defy gravity!
BOOK NOW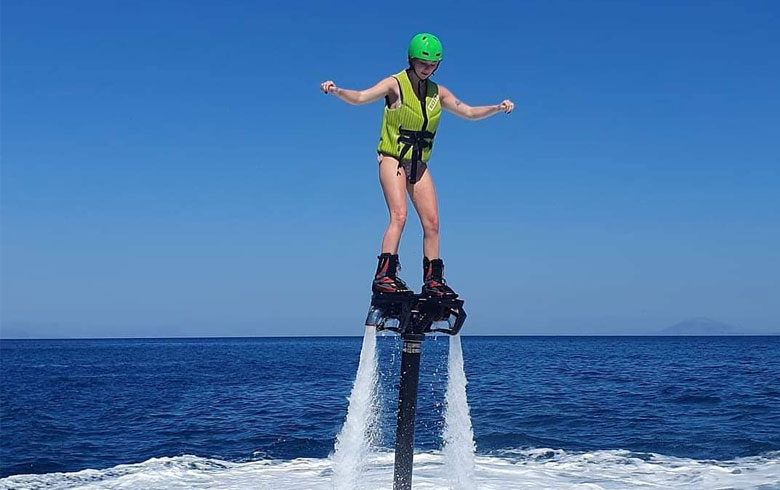 Price per Person
| 10 minutes | 15 minutes | 20 minutes |
| --- | --- | --- |
| 45€ | 60€ | 80€ |
The flyboard works on a water propulsion system. The flyboard is connected to the jet ski by a hose redirecting the water-flow pressure to nozzles placed either side of the board.
Using your weight, the rider directs the board right or left, up or down while the flyboard operator controls the speed.
Get ready to experience the amazing sensations of rising high above the water and doing tricks. You can swim and dive like a dolphin and rise to 15 m high.
Enjoy flyboard, the ultimate experience in Kos Island.
Flyboard Equipment
Our facility uses the official Zapata Flyboard, they are many aftermarket brands out there that do also work, but nothing can compare to the smooth and sturdy riding sensation you get with the original product. The heavy-duty hose connecting from the Flyboard to the jet ski measures a length of 60ft. The jet skis used as a "water pump" to propel the Flyboard are equipped with robust engines fitted with double-impeller, giving the machine premium power to boost you out of the water at ease. All equipment is inspected daily and kept in superb condition.
2
Swimming skills not required
75% of people learn in the first 5-minutes!